The Buckhorn, Wenzel Friedrich
&
Billie Keilman's Horn Palace
The Buckhorn Saloon was founded in 1881 by Albert Friedrich, son of cabinet maker and famed horn furniture maker, Wenzel Friedrich, who, beginning in 1880 made among the most beautiful horn furniture. The Buckhorn was located on Dolorosa Street in San Antonio. Albert was very fond of deer antlers and cattle horns, which he used to decorate his saloon. As word of this got around, he began offering to trade a drink for horn or antler specimens. The collection grew, and over the years it became larger and larger -- and so did the Buckhorn's reputation. It became a San Antonio landmark and was known around the world. In its heyday, it was the largest horn collection in America.
During the same time, another massive collection of horns and mounted specimens was being gathered by saloon-keeper Billie Keilman who displayed them in his Horn Palace in San Antonio, beginning in 1912, an establishment well-known for its chicken dinners, music and nightlife. Billie claimed to have the largest horn collection in the world with over 5000 specimens from many countries. The Horn Palace was sold to the Buckhorn in 1921, which then made it the undisputed horn king of San Antonio. What remains of the Buckhorn's collection may be seen today in San Antonio.
IMPORTANT: There is much confusion about chairs made by Wenzel Friedrich. Read this link (CLICK HERE) before you buy or sell to compare his work with that of William Mittmann, Charles Puppe and the Appel Bros., all of whom are Texas makers.



Mounted horns were sold from the Buckhorn Curio Shop in San Antonio.
These steer horns, once in the Buckhorn collection, are a better grade example of twist and curl, common to early Texas cattle.
HORN CHAIRS



A classic Wenzel Friedrich horn chair.

Wenzel Friedrich, maker.
San Antonio, Texas.
Two chairs of the 1880's.

Acorn finials of horn.
Tiffany glass ball casters.

Materials offered on Friedrich chairs include:
* a silk plush (velvet)
* buggy seat leather, angora goat, jaguar, catamount and fox,
* and a cane and walnut seat on his office chair model.

The Tiffany glass ball casters were also used by Charles Puppe and William Mittmann, horn furniture makers of the 1880's in San Antonio. Mittmann also fitted the tips of his horns with acorn finials.

By 1884, Friedrich was having trouble finding in his own area the size and shape of horns he wanted for his furniture and began seeking a supply from Old Mexico.

To see Texas-made chairs by Charles Puppe, William Mittmann, the Appel Bros. and chairs from the Horn Palace click here and compare them to Wenzel Friedrich.


Among the most beautiful of all horn chairs ever made. Friedrich offered this platform rocker, with horn-veneered seat frame, inlaid ivory star, and two cushions in cat hide. Sold new in 1889 for $80.
Friedrich No. 9 Chair from Catalog of 1890
| | |
| --- | --- |
| Among the rarest of all Friedrich chairs. Having the glass ball casters, veneered seat frame, two back cushions, and acorn finials. | As of May 2015, this is the only known example of this style of Friedrich chair. Seen here on display at the Boot Hill Museum in Dodge City, Kansas. |
| | |
| --- | --- |
| A Buckhorn child's rocking chair made from wood and horn. | Fancy horn rocking chair from Billie Keilman's Horn Palace. |
CLOCKS and INKWELLS
In 1920, Prohibition became law and the Buckhorn Saloon could no longer sell liquor. Albert Friedrich changed the Buckhorn Saloon to the Buckhorn Curio Store and Museum. It became a major tourist attraction. Dozens of items were offered for sale. Among them were hoof and horn clocks, similar to those seen below. Some clocks sold at the Buckhorn were made with cattle, buffalo, and sheep horns, and combinations thereof. One variety of clock sold at the Buckhorn featured a bull figurine on top. Another variety, outfitted with buffalo horns, included a metal buffalo figurine on its top. Our best information to date causes us to believe these types of clocks were made at an outside source, and purchased by and sold at the Buckhorn. Other businesses besides the Buckhorn may have sold clocks like these.


Uncommon sheep horn clock in its original buggy seat covering.


Trimmed in buggy seat material, fancy nickel corners and boar tusks.


Largest known of the hoof and horn clocks. Made from a previously manufactured mantle clock with 8-day movement, with pleasing chimes. This model is fitted with sheep and cattle horns and hooves. Covered in a velvet-type fabric.


The Buckhorn's popular clock with bull figurine. The earliest known "bull" clock at the Buckhorn appears in a 1909 photo.


Cattle horns and hoofs. A wind-up clock and twin inkwells.
| | |
| --- | --- |
| Sometime in the 1920's. | A cattle and sheep horn clock on the counter. |
BILLIE KEILMAN'S HORN PALACE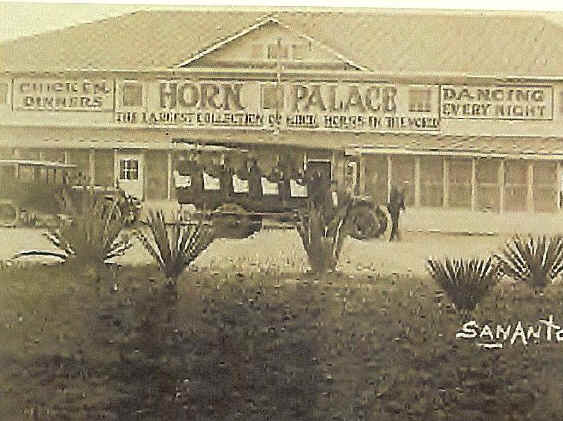 A San Antonio landmark from 1912-1921, having over 5000 mounted specimens.
Billie Keilman

Saloon Keeper

Born 1875
Died 1925


Read about Billie Keilman CLICK HERE
Read about the Buckhorn and the Horn Palace,
Wenzel Friedrich, Albert Friedrich and Billie Keilman by clicking here.
View more horn chairs, hatracks and tables by clicking on these links!
Horn Chairs Horn Hatracks Horn Tables Metz Collection Compare Chairs by Puppe, Friedrich, Mittmann & the Appel Bros.