Champion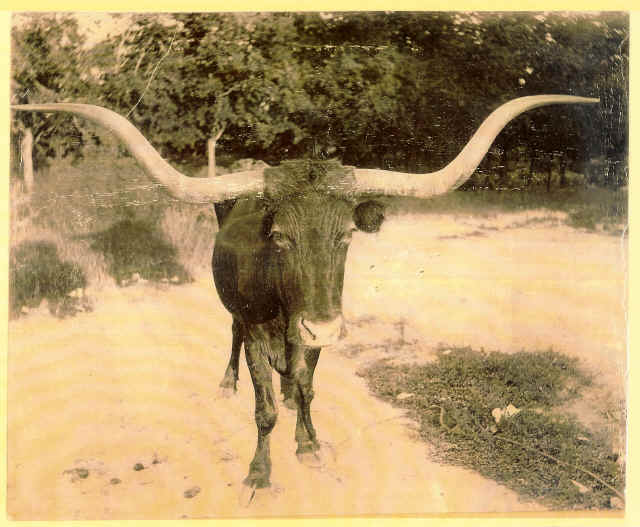 Photo from an original cabinet card picture, taken in Texas about 1899.

Champion is one the most written about steers of all time.
His picture appeared for many years on postcards, indicating his horns were 9 feet 6 inches wide.
If this was true, he would be the known world's record for a Texas Longhorn steer in his era
It isn't true, so let's have a closer look at the story of Champion.

The Story of Champion
From the late 1890's up until 1902 perhaps the most well-known steer in the country was a pale red to brown in color steer named Champion. Born in 1890 near the Rio Grande in south Texas, his picture was reproduced on numerous postcards and appeared in books, papers and various magazine articles. His story is well documented in The Longhorns by J. Frank Dobie. The steer was once owned by Dobie's uncle, Jim Dobie, and was purchased in 1892 for $12. By the turn of the century (1900), Longhorn cattle had been seriously improved by crossbreeding; better sets of horns, such as Champion possessed, were getting scarce. He appeared at the International Fair in San Antonio, 1899, and received a great deal of newspaper publicity but apparently no accurate measurement of his horns was taken at the time. As with many circumstances of life, the truth gets a little mixed with fiction. Various articles and newspaper accounts listed his tip-to-tip measurement from almost six feet to as much as 9 feet 6 inches. Most of the early postcards on which his picture appears list him as 9 and 1/2 feet. Champion appeared at my hometown of Kansas City at the Democratic Convention in 1900 and, apparently, his horns were not measured at the time. Champion became part of a Wild West Show in 1901 and is believed to have been last seen (by those familiar with him) in 1902 in Davenport, Iowa in the company of his former handler, Will Eidson, a south Texas cowboy. There are a number of stories concerning what end was met by Champion, and the whereabouts of his horns are unknown.
The Truth about Champion's Horns
by Alan Rogers
d
Obviously, without measuring the horns physically, we will never know their true width. What we want to learn from the following demonstration is not the actual width but whether or not the horns could have been the massive 9 feet as speculated.
In my 36 years of studying old steer horns, I've discovered from personal measurements that mature steers had poll sections, on an average, of 10-12 inches. (A poll section is the width of the skull between the horns.) Also, in my personal measuring of old mounted heads, I found the width of eye sockets to be reliably consistent, on mature steers, of about 10 1/2 to 11 inches in width. (The base circumference on old Texas steers would have seldom exceeded 13 inches.)
A 16 x 20 enlargement of this closeup photo of Champion was made, which allowed for a more accurate measurement. In centimeters, we measured the approximate width of the poll section at 7 cm. (See measurement A on photo.) An approximate tip-to-tip measurement in centimeters was 45 1/2 cm. (See measurement B on photo.)

Let's allow a poll section of 12 inches and divide that into the tip-to-tip spread. That would be dividing A into B. In doing so, our result is 6 1/2. That is to say, the tip-to-tip spread is 6 1/2 times the poll section or 6 1/2 times 12 inches for a total of 78 inches, which is 6 1/2 feet, tip to tip.

Truthfully, from my formula, we cannot know the exact width of Champion's horns, but there is no question we have ruled out everything close to the exaggerated reports of 9 feet! My measurement of 6 1/2 feet may, in itself, be a little too wide. More than likely, if any of his early day measurements were accurate, those reported in June 1900 by the Beeville Bee stating a little less than 6 feet were probably most accurate.

It has now been certainly established and forever settled that Champion's horns did not exceed 9 feet, although he is deserving of his name as he possessed a championship set of horns.