Clearing Up the Confusion About Horn Chairs
Made By Texas Makers
Wenzel Friedrich, Charles Puppe, William Mittmann & the Appel Brothers
Fully Explaining Their Differences & Similarities
Including Information about Chairs from the Horn Palace
Read This Before You Buy Or Sell
Judging from the number of inquiries I receive, the public at large tends to believe horn chairs are rare. TruthfulIy, there is a plentiful supply of antique horn chairs. Cattle horn furniture is thought to have first appeared in America in 1876 when the Tobey Furniture Co. of Chicago displayed an upholstered sofa and chair with arms made of horns at the Chicago Industrial Exposition. It caught on quickly, and the making of items from horns grew and continued, tapering off around 1920. Chairs are the most common type of furniture; horn settees, horn tables, hall trees and hatracks were also made, but in lesser quantities. The making of things from cattle horns became a massive fad that swept across the country. Texas, Kansas, Missouri and Illinois all produced their share of horn furniture. It was also made as far east as New York City and Leominster, Mass. Many pieces were made by individuals, in unknown locations, who only made one or two items, and their work is usually unmarked. Among the most talented, Herman Metz of St. Joseph, Missouri made about a dozen pieces of horn furniture and related items, none of which were offered for sale. Charles Fletcher and John Crane, both of St. Louis, made furniture as a business. Makers, such as Wenzel Friedrich, Charles Puppe and William Mittmann, all of San Antonio, made furniture in larger quantities over a period of several years. The Appel Bros. of Houston made horn chairs but, seemingly, in fewer numbers. To capitalize on the craze, some home furnishing companies added a line of cattle horn furniture by modifying some of their existing pieces. Most horn furniture and items made from horn were never marked, and the makers may never be known.
The quality and eye appeal of horn furniture was only as good as the maker's imagination, skill and the size and shape of horns available. As in any field of collecting, there always becomes someone whose work stands out above the others. And so it is with Wenzel Friedrich. I receive many questions about his furniture; but, over the last few years, confusion has developed related to the chairs of Friedrich. A growing number of horn chairs are being offered for sale at auction and elsewhere attributed to Friedrich, which he didn't make. This is partly understandable as some of the chairs he made have similarities to the work of other makers, in particular Charles Puppe and William Mittmann, who were also makers of horn chairs in San Antonio during the 1880's, as was Friedrich. The chairs of Charles Puppe are most often confused with a chair Friedrich listed as his model No. 6. Chairs made by William Mittmann are sometimes attributed to Wenzel Friedrich. It may be that one maker copied some design elements of another maker's work. Though similar, these makers have easily recognizable characteristics that distinguish their chairs, and every maker deserves to be recognized for his own work.
Comparing the Horn Chairs of Puppe, Friedrich and Mittmann
| | | |
| --- | --- | --- |
| Charles Puppe | Wenzel Friedrich | William Mittmann |
| Charles Puppe's shop and residence were at 229 Commerce Street in San Antonio. He first appears in city directories as a maker of horn chairs in 1885 and is listed as late as 1891. The four tall vertical horns in the lower back are a trademark design of Puppe. Chair has been re-covered. | Wenzel Friedrich began making horn furniture in 1880 at his shop at 12 Crockett St. and is listed as late as 1897 as a maker of horn furniture. In the center back are two smaller, vertical horns, with tips turned downward, fitted with acorn finials -- a classic feature known only to Friedrich. This fabric is not original. | William C. Mittmann first made horn chairs at his shop and residence at 214 Commerce Street in San Antonio in 1881. By 1887 his shop was at Denison. In 1889-90 he's listed as a horn chair maker at Dallas. The placement of horns on this chair are characteristic of Mittmann's design. Chair has been nicely re-covered. |
Comparing the Chairs of Puppe and Friedrich
Puppe's chairs have similarities to what Friedrich called his Number 6. Both designs are similar but the four longer horns making up the bottom back of Puppe's chair are laid out and spaced in such a way to easily separate them from Friedrich's No. 6. In photographs of 20 different Puppe-made chairs, all of them have the four longer vertical horns in the back. In every case, the middle two are touching (or nearly so) and always lean toward each other -- a characteristic I've never seen on any Friedrich chair. Study the tight, closely arranged horns on the lower back of the Puppe chair. Compare the wide, open spacing in the back of the Friedrich chair, an arrangement common to Friedrich's work. Another confusing point between the Puppe and the Friedrich No. 6 is the fact that the No. 6 chair was not fitted with acorn finials. No known Puppe chair has ever been found to have acorn finials.

(This chair re-covered in deer hide.)
Wenzel Friedrich offered several varieties of horn chairs. Puppe seemed to have created one model with a nearly exact placement of horns on each chair.

Puppe's chair (left) is often confused with Friedrich's No. 6 chair (right) because of the similar placement of horns.



Common to the Puppe chair and a Friedrich No. 6 are the top three sets of horns on the back, pointing downward, with a circular band of horn covering where the horn bases join. This adds to the Puppe/Friedrich confusion. Other unidentified makers have used these circular bands of horn - but not Mittmann. These circular bands on your chair do not necessarily mean you have a Friedrich.

Puppe and Friedrich used identical nickel-plated, glass ball casters on their chairs. Glass ball casters do not guarantee you have a Friedrich chair.


In my research files, I have 84 photographs of different Friedrich chairs. Only two of them are the No. 6. Apparently, not many of this model were sold.
Friedrich's No. 6 arm chair, as seen in his 1890 catalog.
This chair was sold new, not having acorn finials on the horn tips.
According to Friedrich's catalog, all of his horn chairs were sold new with acorn finials except the No. 6 model.
If your chair has acorn finials, you don't have a Friedrich No. 6.
No known Puppe chair has been found having acorn finials.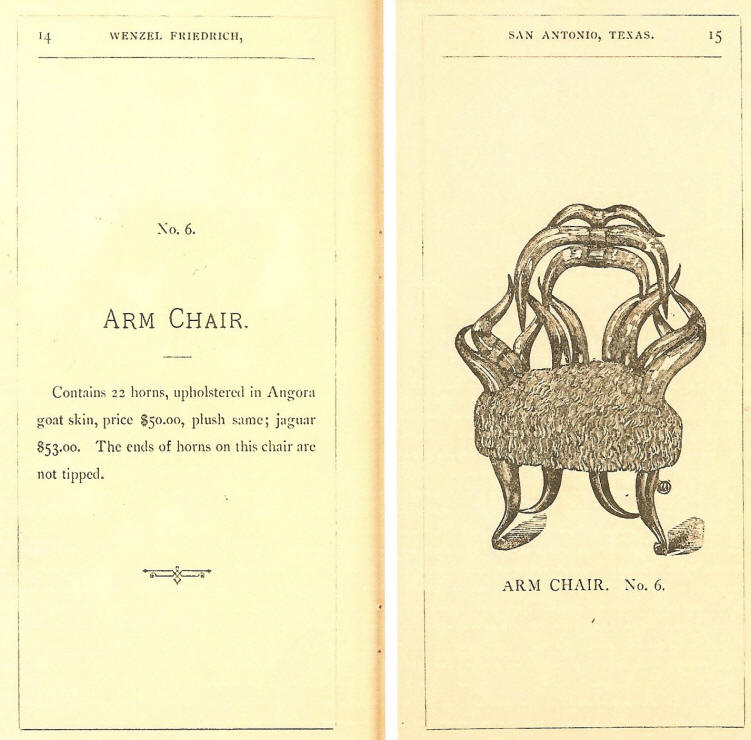 The documented work
of Charles Puppe

This chair was sold to Texas rancher Dennis Martin O'Connor, who in turn gave it to President Benjamin Harrison in 1889. Chair may be seen at the Harrison Home/Museum in Indianapolis.

The placement of the four vertical horns in the chair's back, leaning inward toward each other, and the three sets of horn on top, pointing downward, connected with circular bands of horn quickly identifies this as a Charles Puppe.

Puppe used nickel-plated glass ball casters.






Undeniably made by Charles Puppe. Photo taken in Kansas, the 1960's. Whereabouts unknown. As of Jan. 2018, only two Puppe child chairs are known.
| | |
| --- | --- |
| Puppe was born in Germany, Feb. 18, 1845 as Carl T. Puppe. He came to America in 1883, was in San Antonio by 1885, and began referring to himself as Charles. A cabinet maker. Listed in city directories from 1885-1891 as a maker of horn chairs. Died Jan. 13, 1916. He is buried next to his wife, Minna, in San Antonio. His tombstone reads "Carl Puppe." His children: Anna, Willie, Otto and Oscar. | Cabinet card photo of the 1880's showing the placement of horns along the bottom back, common to every known Puppe chair. Inscription reads: Chas. Puppe, Manufacturer of Horn Chairs. San Antonio, Texas. Commerce Ste. C. H. Savage Photographer, 247 Commerce Street, San Antonio, Texas. |
Comparing the Chairs of Mittmann and Friedrich
Based on a study of 30 known Mittmann-made chairs, he seems to have created one basic design, with minor variations. As an example, one chair might have 22 horns and another might have 24, but the layout of design, placement and spacing of horns are always recognizably similar. Study how the horns, which make up the back, are placed and their spacing. Mittmann, like Friedrich, did apply acorn finials to the tips of some of the horns. Friedrich and Mittmann both used nickel, glass-ball casters on the legs. But, for some peculiar reason, Mittmann sometimes only placed the casters on the front two legs, and one known Mittmann chair was made without any casters. Easily recognized on every known Mittmann chair is the covered horn junction in the upper back, a feature unknown on any Friedrich or Puppe chair.

Cabinet Card Photo
of a
William Mittmann Chair

1882


* Seen here in its original cloth covering with fringe and tassels.

* Mittmann, Puppe, and Friedrich all used the nickel, glass ball casters. These casters alone cannot be used to determine the maker of your chair.

* Mittmann also offered a horn rocking chair. As of Feb. 2018, only two Mittmann horn rockers are known to me.

* Mittmann and Friedrich used acorn finials made of horn. No known chair made by Charle Puppe has ever been seen with these acorn finials.
Mittmann Advertisement

San Antonio City Directory

1883

Notice the glass ball casters on the front. Sometimes, Mittmann put casters on the front legs only and, on some chairs, they were placed on all four legs.

In the upper back, the familiar horn junction covered with cloth, a characteristic of every known chair he made. This junction has never been seen on a Friedrich or Puppe chair.

Circular bands of horn where the horn bases are joined together have never been found on a Mittmann chair.


An upper-grade chair. By William Mittmann. Remember, a maker's work does not have to look exactly the same on every chair. Some chairs may differ slightly based on a customer's order or what size, shape and number of horns were readily available. Compared to Mittmann's advertisement, this chair has fewer horns. But the main features, such as his glass ball casters, acorn finials, and his trademark horn junction in the upper back identify his work. The color and pattern of fabric used to re-upholster this chair added to its overall appeal.
The Chairs of Puppe, Friedrich and Mittmann -- Seat Coverings & Horn Veneer
It was common for volume makers of horn furniture, as were Puppe, Friedrich and Mittmann, to offer customers a variety of coverings. Cloth-covered seating, often plush (velvet) with Victorian appointments such as fringe and tassels were available, as well as what we call "buggy seat" leather. Friedrich also offered Angora goat hide. Puppe, Friedrich and Mittmann all made chairs covered with jaguar hide, at a higher cost. A large percentage of old horn chairs have been re-covered.

A certain amount of time should be given in choosing the type, color and texture of fabric when re-upholstering your furniture. These chairs were all made in the Victorian period and many fabrics are available today, which closely recreate that look. Shiny fabrics and vinyls should be avoided and may reduce the value of your chair. It's best to pick a material that seems to look as old as the horns do, and complements rather than clashes.

Friedrich is well known for horn veneering on his chairs, tables and hall-trees. In March 2016, a Puppe chair was found with the lower portion of the seat frame decorated with horn veneering. Into the front side veneer are two inlaid diamonds, possibly made of ivory. As of Feb. 2018, this is the only known example of Puppe horn veneering. No Mittmann chair has yet been found with horn veneering.
| | | |
| --- | --- | --- |
| Charles Puppe | Wenzel Friedrich | William Mittmann |
| | | |
| --- | --- | --- |
| The classic Charles Puppe chair of the 1880's. Having 20 horns and glass ball casters. As with Friedrich's chairs, this horn veneering was placed on all sides of the lower seat frame. The chair above may have been re-covered. | A real beauty. Listed in Friedrich's catalog as the Perfect Rocker, No. 10. Cushions covered in jaguar, with horn veneering and an ivory star on the lower seat frame. The veneering and horn finials were applied with hide glue, and it's common to find some of them missing. This chair sold new in 1890 at $80. | Not much variance is found in the arrangement of horns on a Mittmann chair. This model has Tiffany glass ball casters at all four legs, horn tips with acorn finials, and his trademark upper horn junction in the back. A really attractive example, with large shapely horns. Re-covered. |
Comparing the Chairs of Charles Puppe to Henry Appel & Bros. of Houston
Henry Appel and his brothers' shop was located at 204 Preston in Houston and is listed in city directories as a maker of horn furniture as early as 1887. By 1892, they had moved to 706 Preston and are listed in that year's city directory as a furniture dealer with no mention of being a maker of horn furniture. They apparently had a short run with horn chairs, and very few of their chairs are known. The original maker's tag is still attached to this chair seen below and reads, "H. Appel & Bros. The cabinet makers & upholsters. The manufacturing of horn furniture and the moving and repairing of furniture a specialty." Henry Appel was born in Germany in 1843 and died in 1927 at Wichita Falls, where he is buried.
| | | |
| --- | --- | --- |
| Puppe | Appel (with original tag) | Appel (attributed to) |

This chair shows Puppe's always-found features:

* glass ball casters
* four vertical horns in the lower back
* a stack of horns on top, with horn bands covering the bases
* and no acorn finials.


At a glance, this chair could be mistaken for a Puppe chair because of the four vertically placed horns in the back. There are no glass ball casters or supportive horns at the legs or circular bands of horn where the horns come together. The padded headrest has never been found on any Puppe chair. Original upholstery.


This small rocker carries no original tag but obviously came from the same hand as the chair to the left. The upper headrest on the Appel chairs must not be mistaken for the horn junction on a Mittmann chair. No known Appel chair has glass ball casters or acorn finials. Horn furniture by the Appel Bros. seems to be in short supply. Attractively re-covered.
Chairs at San Antonio's Horn Palace
A popular tourist attraction, the Horn Palace Bar and Cafe was opened in 1912 by Billie Keilman and, toward its end, was located at 312 E. Houston. Often referred to as a roadhouse, the Horn Palace featured live bands and dancing, and was a point of attraction for up and coming musicians. Chicken dinners were a specialty. Customers could dine while sitting in horn chairs, which were also offered for sale. Billie Keilman is listed in the 1910 census as a saloonkeeper; was born in Bexar County, TX, 1875; and died Nov. 1925.
| | |
| --- | --- |
| | |
These chairs are believed to have been made between 1912-1921 while the Horn Palace was in operation. They have flat bottomed seats and a small amount of padding. They were covered in cattle hide or angora goat hide, as seen above, with nickel-plated, metal, non-rolling casters. The number and placement of horns is nearly always identical, with little variance.

We don't know who made the Horn Palace chairs. In San Antonio's Witte Museum is a child's horn rocker made by Steve Brodie, around 1912, the year the Horn Palace opened. The chair is strikingly similar to the chairs in the Horn Palace. It may be that Brodie made chairs for Billie Keilman or, at least, had some connection with supplying them.

Whether used by patrons at the Horn Palace or purchased there, this cattle hide chair (left) has been sat upon many times.

Except for the rocking chair version, this caster (above) has been found on every known Horn Palace chair.
These Horn Palace rocking chairs have no springs in the seat, are lightly padded with a cloth covering, and have a double row of upholstery tacks -- features known to every Horn Palace rocker. They tend to be a little smaller in size than the average adult horn chair and may not always have the same number of horns but the similarity of design is obvious. Every known Horn Palace rocker has a single wooden cross member connecting the bottom two rockers.
| | |
| --- | --- |
| | The Horn Palace, as it was commonly referred to, claimed to have the largest collection of horns, antlers, and mounted specimens in the world, numbering over 5000. In 1921, a gangland-style shooting occurred there, and Billie Keilman was shot and nearly killed. By 1922, the Horn Palace had closed and the entire collection sold to Albert Friedrich of the Buckhorn, including the horn chairs, some of which are on display at what remains of the Buckhorn in San Antonio today. |
In addition to chairs made by Puppe and Mittmann, other horn chairs by unknown makers are being attributed to and offered for sale as the work of Wenzel Friedrich, chairs that he did not make. Remember, horn chairs from different makers may look similar.
Other Texas horn chair makers of the 1880's have been identified. They include Antonio Papeschi, a carpenter by trade, Frank Lachuga, and August Biesenbach. All three of them were in San Antonio. No advertisements for or photos of chairs by these three makers are known to me.
A company label for the firm of Houston & Moegelin of Dennison, Tex. was found on a horn hatrack. They list themselves as manufacturers of all kinds of polished horn work. Whether this includes horn chairs, we don't know.